The best offices have common spaces where employees actually want to spend their free time. Check out these ideas to help make your break room a more relaxing, engaging, and recharging place.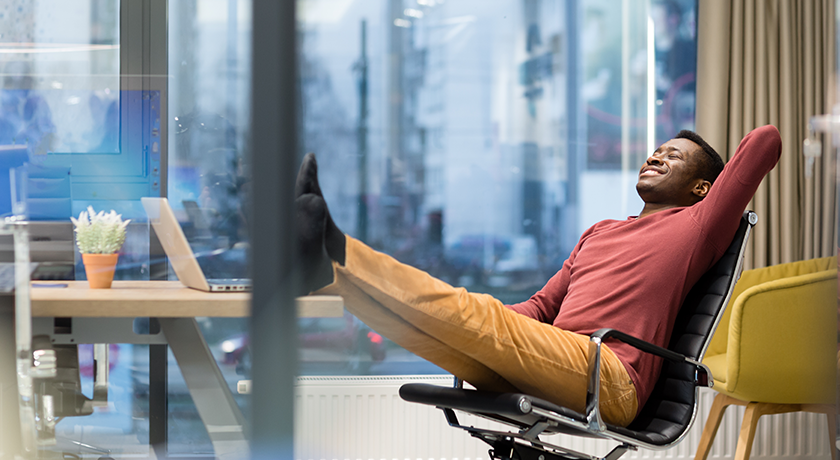 The best offices have common spaces where employees actually want to spend their free time. Check out these ideas to help make your break room a more relaxing, engaging, and recharging place.
Your team works hard, so it's only right that you give them a great place to relax, regroup, and enjoy a few moments of down time. So, whether you call it a staff break room, staff lunchroom, or employee lounge, what matters most is that it's an area where your employees are able to truly enjoy a break.
What are the best things you can add to your office common space? The truth is, every workplace is different, and every team has different interests. If you're really keen to make your staff lunchroom a place that everyone enjoys, then you need to ask your coworkers what they would like to see in it.
That being said, there are a few key items that can really take your break room to the next level. Keep reading to learn about all the things that can help to encourage your team to rest, socialize, and recharge on their work breaks.

10 Great Additions to Any Office Break Room or Common Space
---

1. Office Library
Promote learning and development at your organization by adding a bookshelf or library to your common space. Employees will naturally seek out things to do on their breaks, so why not give them an opportunity to improve their skills? All you need to do to create your office library is set up a bookshelf and fill with different skill-based books that your team might find interesting. For ideas on what books to fill your library with, check out our blog post: 10 Best Reads on Leadership from Outback's Leaders.


2. Snack Bar
Creating a snack bar with healthy food items can help give employees the pick-me-up they need on their breaks. Not only is offering free snacks to employees a great workplace perk, but it also can help them stay productive. A study by the British Journal of Health Psychology showed eating healthy snacks made employees feel more creative, happier, and engaged.
Try stocking your snack bar with the following healthy items for the best results:
Bananas, apples, or other fruit
Baby carrots, sugar snap peas, or other veggies
Nuts
Protein Bars
Jerky
Granola


3. Beer Keg
Many companies have embraced the trend of making free beer available in their employee lounge. But is drinking at work really such a good idea?
This won't be right for every office, but adding an office beer keg to your break room may provide some benefits if you trust your team to treat it responsibly, such as:
It's a workplace perk that can help to make your office seem trendy, progressive, and fun.
According to academic research, individuals who are drinking often display greater creativity and problem solving skills.
Studies show light alcohol can help make your team happier and friendlier, which can be a great boost to your team building and positive workplace culture.
Google, a famously forward-thinking company with a well-known penchant for having a great company culture, took this one step further. They transformed their staff lunchroom at their Dublin head office into a full-on Irish pub.
4. Coffee Station
For many teams, coffee is the lifeblood that gets them going in the morning, and keeps them productive throughout the day. If you want to create the ultimate coffee station in your staff lunchroom, try adding a few of the following items:
Custom Mugs – Create a custom mug for every employee in the office to use. This can be a great welcome gift for new employees.
Glass Jars – Use large mason jars to store your coffee, sugar, and other garnishes like cinnamon.
Pastries – What goes better with coffee than a small cookie or croissant? Make these available at your coffee station to take it to the next level.
Decorations – Add some small touches, like a vase with fresh flowers in it, or special napkins for employees to use with their coffee.


5. Comfortable Seating
On breaks, some employees like to sit down, while others like to rest their heads. Try to have enough seating for everyone in your office to use the staff break room at the same time. Some seating options you may want to consider include:
For Resting - Couches, hammocks, or sleep pods
For Eating - Chairs, benches, and picnic tables
For Staying Active - Exercise balls, yoga mats, and stationary bikes
6. TV + Netflix
Employees are often looking for an escape on their work breaks, but you might be hesitant to add a TV to your office common space because you think it will be too distracting. As long as your staff break room is separate enough from where employees are actually doing their work though, a TV with a Netflix account attached can be a great addition! You can even encourage employee bonding by hosting events like movie nights or sports viewing parties.


7. Quiet Rooms
Not everyone wants to socialize on their breaks. Try adding quiet rooms to your office common space so introverted employees who are interested in mindfulness and meditation can rest and recharge. These are spaces that promote peaceful atmospheres to help employees manage their stress and well-being.
The best quiet rooms feature:
Dim lighting so that employees can close their eyes
Couches or reclining chairs to rest on
Soundproofed walls to reduce noise levels
Yoga mats for employees interested in meditation
Special scents, such as lavender, to promote a sense of calm
8. Team Photos
Don't leave the walls blank in your employee lounge – fill up the empty space with team photos that showcase just how much fun your team is to work with! Don't have any team photos? Make sure to snap a few pictures the next time you're having one of these events:
Company BBQ's
Awards Celebrations
Corporate Retreats
Team Lunches


9. Workout Equipment
Regular exercise has a lot of benefits, including lowering stress levels, improving mood, and boosting confidence. But did you know it can also increase productivity? Add some gym equipment to the common space in your office, and you can encourage employees to stay fit on their breaks.
The best workout equipment for staff break rooms could include:
Dumbbells
Treadmills
Medicine Balls
Pull-Up Bars
Resistance Bands
Yoga Mats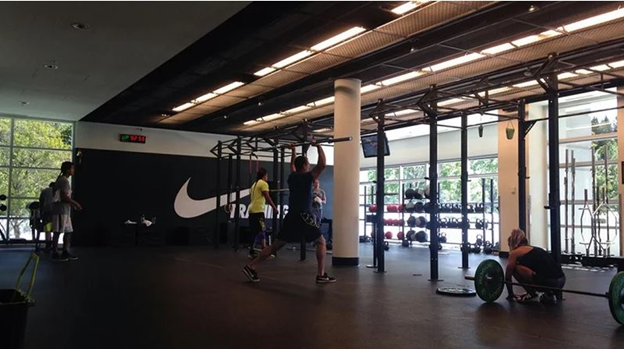 One great example of a company that offers exceptional workout equipment in their staff break room is Nike. Believe it or not, their Beaverton, Oregon, offers a full swimming pool, yoga rooms, and a full gym. While you certainly don't need to install a pool, a few items of exercise equipment can definitely help take your employee lounge to the next level.
10. Recreation Activities
Playing games or activities can be a great way to encourage employees to bond, take part in a friendly competition, and connect. Make your employee lounge more exciting and engaging for employees by adding some recreation activities. Try incorporating a mix of cerebral and physical things to do so there is something for everyone.
The top recreation activities for staff break rooms:
Ping Pong Table
Board Games
Basketball Hoop
Jigsaw Puzzles
Foosball Table
If you're looking for some fun and easy indoor team building activities that you can enjoy right in your office break room, check out five of our favorites:
Getting to Know Yo

u

-

There's no

greate

r

way to help colleagues get to know each other better than with this social

scavenger hunt team building activity

!

Y

our colleagues

will need to learn more about each other

in order to tackle photo and video challenges that require

them

to find people who match specific criteria

.

Corporate Escape Rooms

-

There's only one way out with this

te

a

m building

activity that turns your e

mployee lounge

into a

full-on

escape room: work together to find clues and solve puzzles before time runs out.

We offer two e

xciting escape room themes – Jewel Heist and The Mummy's Curse – which we can bring right to your office!

CI: The Crime Investigators

–

When your office break room becomes the scene of a mysterious crime, y

our team is the only hope of solving

it

in this engaging and collaborative exercise.

T

hey'l

l have to

put their heads

together

and

think analytically

to

find

and interpret

evidence and decipher clues in order to crack the case.

Code Break

–

If your

workgroup

likes brainteaser challenges, then th

ey'll love this activity

!

Code Break

divides them i

n

to teams

and

puts them up against a challenging series of puzzles, riddles, and trivia questions

. Whichever

team earns the most points once time expires will be crowned the winner!

Clue Murder

Mystery -

You've probably never heard of a man named Neil Davidson. But when he is found murdered,

your employee lounge turns into police headquarters and

team

become detectives who

will need to come together to solve the mystery

of who did it.

They'll need to analyze clues, solve challenges, and figure out who ha

d

the means,

motiv

e

, and opportunity

to commit

t

his deadly crime. But it won't be easy – it's a real whodunit!
---

Transform Your Office Environment
Check out 50 Ways to Improve Your Office Environment for a free checklist of more easy-to-implement ideas, or get in touch to learn about how we can help you build a more positive workplace culture with team building and training programs.